The handy Now and Next bar includes programme information, a text version of the show library, what's playing now, a list of future recordings, an EPG search box and a volume control bar.
This shows Imaging PVR with the Now and Next bar switched on.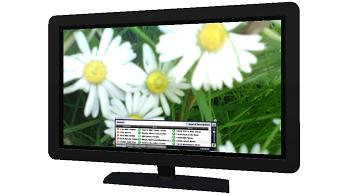 Change the text size to a larger size to increase the size of the Now and Next bar.
From the top icons click on

to switch the Now and Next bar on and off.
Now and Next channels
Full Electronic Programme Guide grid.

Favourite TV channels are always at the top, shown with a heart. You don't need to set them, Imaging PVR detects your favourite channels. A recording has been set as seen by the red circle.

Click on a channel name or enter the channel number to watch live.

The green circles are a visual guide of how much of the programme has passed. They act like sand timers, emptying of colour as the programme plays.

Scroll down for more channels.

The volume bar is on the right.

The search box is on the top - very useful if there are lots of channels. Search for channels, programme names or 'football', 'film' etc. Tick the checkbox to search the programme descriptions as well.

The time is on the bottom right.

Set recordings by clicking on the green circles or select the programme and select record. Right click for more options such as series record. Here are 2 examples:
Choose the frequency of recording, or record a series.
Right click on a programme and a menu appears. Watch a show live or set it to record.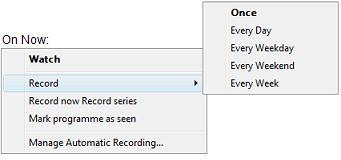 The text version of the show library on Now and Next
Graphic version of the show library.

Click on the shows tab to open the text version of the show library or tab to shows and press enter.
Select a recording to play it.

Right click for more options such as converting the files to another format or moving the files.
Send a recording to a memory stick or card, external hard drive or another part of the computer.
To open the menu, right click on the programme name.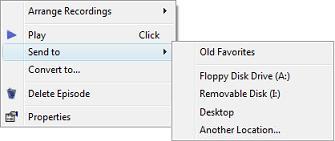 A copy of the recording is left in the original location.
Now playing

Click on the Now Playing tab to open or tab to Now Playing and press enter.
Future recordings

Click on the Future Recordings tab to open or tab to Future Recordings and press enter.
Imaging PVR software for TV cards gives you TV on your computer. Windows 7, Vista, XP, 2000

Imaging PVR information
What does Imaging PVR look like?
New Electronic Programme Guide
Where do I store the TV recordings?
> What's on TV now?
Features
Watch TV while surfing the web
What is Picture in Picture? (PIP)
What is Picture in Graphics? (PIG)
How to play a DVD on your computer
Frequently asked questions about Imaging PVR
General