Don't do anything if a TV card is already installed on your computer.
Compatible TV cards and some driver links
Use the TV card / stick's installation disk
Install the driver that comes with the TV card or stick.
No disk
If you don't have the disk, try the TV card manufacturer's website. Most product manufacturers have a download area where product drivers are available for download immediately.
You could try an Internet search for the name of the TV card and 'driver'.
There are several specialist TV card download sites.
You could try an Internet search for 'TV card driver' to find some of these.
NOTE We have no connection with these sites and accept no responsibility for any activity including downloading you do.
Imaging PVR software for TV cards  for TV on your computer. Windows 7, Vista, XP, 2000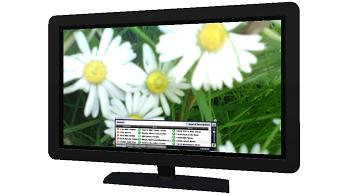 THE credit crunch solution for a very powerful TV and recording package at low cost.
Imaging PVR information
What does Imaging PVR look like?
New Electronic Programme Guide
Where do I store the TV recordings?
Features
Watch TV while surfing the web
What is Picture in Picture? (PIP)
What is Picture in Graphics? (PIG)
How to play a DVD on your computer
Frequently asked questions about Imaging PVR
> Driver information
General