7 - 8 days programme information is normally provided with the TV signal with Freeview, Freesat and many satellite channels. The first time you use Imaging PVR select a channel and let it play for a while. Programme information will be loaded while the TV programme is on.
As long as you use the software during the next week, Imaging PVR remembers programme information for next time you switch on. When Imaging PVR is running it regularly checks for changes to programmes and new programme information.
You get programme information through the TV signal. You don't need a phone line, the Internet or to pay a subscription.
Television service with no programme information?
The Electronic Programme Guide grid (EPG)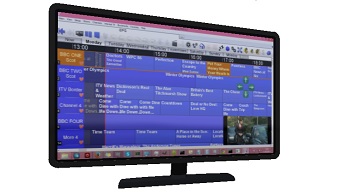 - Channel names have been changed and the programmes blurred in this demo picture to protect the copyright of the television companies.
Search for programmes to record using the search box on the top right.
Record a programme by selecting a programme in the future from the EPG. Right click for more options such as series record.

Set a reminder. Right click on a programme > Remind me to watch this. Imaging PVR will turn on the programme at the start time.

How to select programme information from the top menu.

- If you don't see the top menu, press the space bar.

Select a programme to watch it.

Handy programme information on the Now and Next Bar.

There is also programme information in automatic recording.
How do I use the Electronic Programme Guide (EPG)?
Mouse

Click on the channel or the current TV show to watch live TV.

Click on a future programme to record a show once. Click again to cancel.

Or right click on the programme to select to record the series, daily or weekly and to cancel these options.

Remote control

Press tab till you select your programme.

Press enter to watch live.

Press record to record.

Press the red square to stop recording.

Keyboard

Ctrl+E Open the Electronic Programme Guide grid.

Press tab till you select the programme.

Ctrl+W to watch live TV.

Press R to record.

Shift+Ctrl+R Will hibernate after recording.

Ctr+R to stop recording.

Can I change how many days of program guide I get?

No, this is set by the TV provider.

.

Imaging PVR information
What does Imaging PVR look like?
> New Electronic Programme Guide
Where do I store the TV recordings?
Features
Watch TV while surfing the web
What is Picture in Picture? (PIP)
What is Picture in Graphics? (PIG)
How to play a DVD on your computer
Frequently asked questions about Imaging PVR
General