Check the basics
1 Firstly check the quality of the TV picture. Watch live TV. If the TV picture is poor, the recording will be poor.
2 Restart your computer. It may be short of memory.
3 Check the aerial signal. Are all the connections plugged in properly? Is the aerial good enough? Is the aerial pointing to the best place?
4 Sometimes poor weather affects the TV signal. If this is not a problem, try autotune again.
5 Ensure that your graphics drivers are updated to the latest that the manufacturer provides.
6 Try checking the hard drive for errors then defragmenting the hard drive.
7 Check the refresh rate on the machine doing the playback. If set too high, it can cause this problem as well.
Control Panel > Display > Settings > Advanced > Monitor > Screen refresh rate
Suggested settings are any less than or equal to 75 Hz. Additionally, try lowering the resolution at which the show is displaying. The PC may simply not have the resources to play back the video at the resolution or colour depth.
8 Computer CPU
If the file being played was not produced by Imaging PVR the resolution of the file itself may simply be too high for the CPU to handle.
Reasons for black screens:
The file is audio only.

The virus or anti- spyware blocking the PVR.

The MPEG decoder is not decoding the stream due to bugs in the MPEG decoder. You could try another one.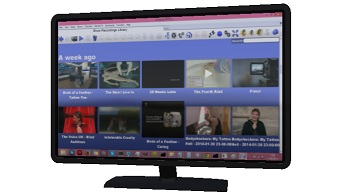 Imaging PVR
Imaging PVR is software that enhances new and currently owned compatible TV cards to give you series record, Control the kids TV viewing, record multiple channels and much more...
Imaging PVR information
What does Imaging PVR look like?
New Electronic Programme Guide
Where do I store the TV recordings?
Features
Watch TV while surfing the web
What is Picture in Picture? (PIP)
What is Picture in Graphics? (PIG)
How to play a DVD on your computer
Frequently asked questions about Imaging PVR
General