Doesn't run
Problem: "Imaging PVR Setup Wizard was Interrupted" or you lack privileges to install software
Won't tune in
Never open the program then connect the TV card. It must be the other way round. The TV tuner / card must have it's driver installed before using Imaging PVR. You can get driver software from the TV card manufacturer's website.
The TV tuner / card must also be connected to your satellite dish, or TV aerial for DTT (Freeview).
You may have a TV card which is for the USA TV standard. This will not work in Europe, Australia, New Zealand and large parts of the world.
Dual tuners
Autotune should tune in all the TV cards you have. If this fails for some reason, help is below:
If you have a dual tuner and find only one has tuned in you can do the second one manually.
Click setup

> Tune in > Select your TV tuner from the tab > Autotune
Can't get a picture
Is your TV card connected?
You have to connect the TV card before opening Imaging PVR.
Is your computer set for another country eg USA while you are in eg India?
This will confuse tuning in. You need to set your computer for the country your are in.
Start > Control Panel > Clock, Language and Region > Region and Language > Change location > Select your country from the drop down box and click OK.
Have sound but no picture
In the icon menu on Imaging PVR select Setup

> Advanced (from the list on the left) > Video Output (3rd line down) > Select Overlay mixer from the drop down menu on 'Video Output'.
If that doesn't work, try the other options in the Video Output drop down list.
Still problems? Contact Imaging PVR
Doesn't run
http://www.microsoft.com/downloads/details.aspx?FamilyID=9b2da534-3e03-4391-8a4d-074b9f2bc1bf
Can't download
Enable cookies
If you have disabled cookies on your computer, you need to enable cookies to download and buy online.
Log on as an administrator
Firstly, make sure you are logged on as an Administrator and running Windows 2000, NT or Vista, 7. You must have Administrator rights to download application files. For example you may be unable to download this software from work without getting the system administrator to do it for you.
Browser security settings
It could be the security settings on your Internet Browser. In Internet Explorer select Tools > Internet Options > Security. If the setting is high, move the slider to medium high. You will also need this setting to make an online payment. Change the setting back to high if you wish later.
Disk space
Check that you also have enough disk space for the download.
Firewall and anti-virus settings
The firewall settings or anti-virus settings might be blocking any downloads.
Some virus checkers may mistake other software for a virus. Try disabling it temporarily to see if that is the case.
Internet connection sharing
Do you use Internet connection sharing? If so try switching it off while you start Imaging PVR. This is not very likely to be the problem, but its worth a try to see if it is.
From Start at the bottom left of the screen, > Settings > Control panel > Add remove programs > Add / remove Windows components. Switch off Internet connection sharing if it is on and try starting Imaging PVR.
Problem: "Imaging PVR Setup Wizard was Interrupted" or you lack privileges to install software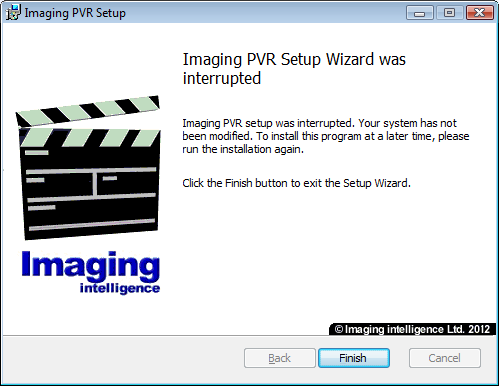 If when you install you get the above message, or you can't normally install software due to lack of privileges, you will have to download and install the other version of Imaging PVR, the "installer for limited user accounts" by clicking here, or on the download button below.
The install instructions will be different in that ImagingPVROneClick.msi is downloaded and run, also the start of the installer is simpler and you can't specify where to install Imaging PVR as it has to go in a special place.




How will it affect my computer's security?

None of our software has commercial popups, adware, spyware, or Trojans. It has tested as virus free.

If you still have problems Contact Imaging PVR.

Imaging PVR software for TV cards  for TV on your computer. Windows 7, Vista, XP, 2000