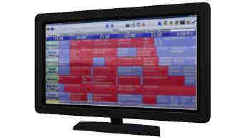 It's very easy to set recordings on the EPG. When programmes are set to record, the background changes colour and a red circle appears beside the programme name. Other shows that cannot now be recorded are greyed out.
1 Play TV for a minute or two to allow time for the EPG information to be loaded from the programme information.
2 Click
Or On your remote, select EPG.
Or Top menu > Shows then from the drop down list select New Electronic Programme Guide Grid Window.
Or enter Ctrl+E on the computer keyboard.
3 Record a programme
With your remote, use the up, down, left and right arrows to find a programme to record. Press Enter..

Or right click on the programme you want to record. Choose to record and the frequency of recording from the drop down list.

Or use the up and down arrows on the keyboard. Press enter to record.

Cancel a recording by choosing that option from the drop down list in step 3.

How to record TV on your computer.

Imaging PVR software for TV cards  for TV on your computer. Windows 7, Vista, XP, 2000

Imaging PVR information
What does Imaging PVR look like?
Where do I store the TV recordings?
Recording
> Set recordings on the Programme Guide (EPG)
How to set instant record on your TV
How to set a timed recording on TV
Frequently asked questions about recording
Features
Watch TV while surfing the web
What is Picture in Picture? (PIP)
What is Picture in Graphics? (PIG)
How to play a DVD on your computer
Frequently asked questions about Imaging PVR
General